The tradition of gift-giving is an old one, but it became associated with Christmas more recently. It is a relic of a pagan custom, namely, the winter solstice which in Europe occurs in December. This was celebrated in ancient Rome with gift-giving during the Saturnalia holiday, which took place that month. As Christianity became increasingly widespread in the Roman lands, the custom of gift-giving continued. Around the year 336 AD, the date of December 25 appears to have become established as the day of Jesus's birth, and the tradition of gift-giving was reinterpreted and tied to the story of the Biblical Magi giving gifts to baby Jesus; together with another story, that of Santa Claus based on the historical figure of Saint Nicholas, a fourth-century Greek bishop and gift-giver, it slowly became a part of Christmas celebrations.
Some early Christian rulers, however, interpreted this story as indications that it should be their subjects who should give gifts to their superiors, and insisted on tributes and tithes during that period. This changed around the turn of the millennium following the popularity of the Good King Wenceslas story based on the life of another historical person claimed to be a gift-giver, Saint Wenceslaus. Christmas gift-giving to superiors became less common, and around the time of the Protestant Reformation, customs of gift-giving to children became increasingly widespread in Europe. The custom spread to the United States around the 19th century. This also coincided with the desire of some elites to reduce the rowdiness of adult Christmas celebrations, which in some places were tied to begging, as "bands of young men, often rowdy, would "wassail" from home to home and demand handouts from the gentry". Another related aspect was the growing desire by parents to keep children at home, away from the "corrupting" influence of the urban streets.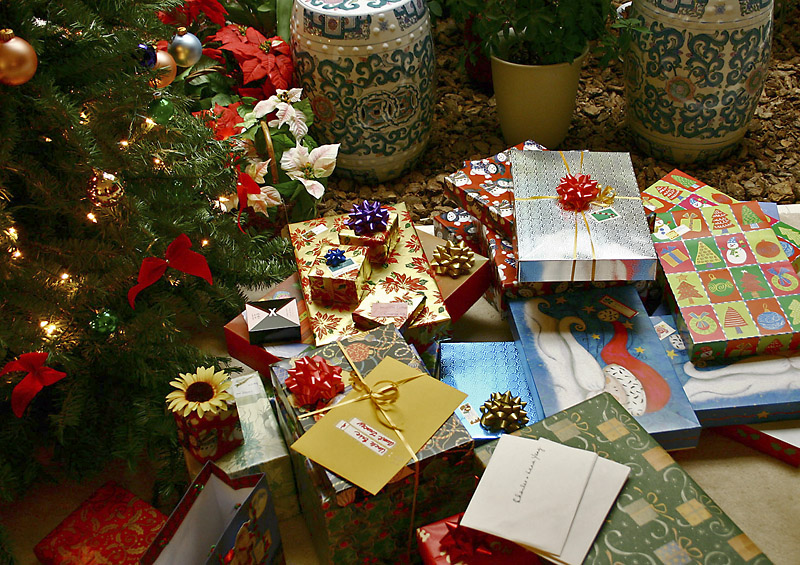 Another relatively recent change concerned the time of Christmas gift-giving. For many centuries, gift-giving took place on December 6 around Saint Nicholas Day or in early January after New Year's Eve. The popularity of this custom grew after the positive reception of the 1823 poem The Night Before Christmas by Clement Moore and the 1843 Charles Dickens novella A Christmas Carol. By the end of the 19th century, Christmas Eve replaced early December or January dates as the most common date for gift-giving in the Western culture. It is now customary for one to open a single gift on the evening of Christmas Eve.
The tradition was also embraced by retailers, for whom the weeks and, eventually, the entire month before Christmas became a very profitable period. Around the turn of the 20th century retailers started directing marketing efforts at children in the hopes that they would entice the parents to buy more goods.
In the early 2000s it was estimated that shoppers in the U.S. alone spend over $4 billion each day during the Christmas shopping season, with an average individual spending over $1,000 on gifts.
There are concerns that gift-giving during Christmas is too commercial. Seventy percent of respondents to an online survey of 13,576 people in 14 European countries in 2016 said that too much attention is put on spending during the Christmas period, 42% said they felt forced to spend more at Christmas, and 10% borrowed money to be able to afford the gifts.
Economist Joel Waldfogel noted that because of the mismatch between what the giftee values the gift and the value paid for by the giver, the gifts lose between 10% to one-third of their value; he calls it the "deadweight loss of Christmas". This leads to gifts often being returned, sold, or re-gifted. In the 2016 European online survey, 15% of respondents were unhappy about their gifts and 10% could not remember what they had received. Twenty-five percent of respondents said they had re-gifted their presents to someone else, 14% sold the items, 10% tried to return them to the store, and 5% returned the gift to the giver.[5] Seniors were more likely to send their unwanted presents to charity, while those aged 25 to 34 "simply threw them away". Gifts that are least likely to be appreciated rely on personal tastes, and include items like perfumes and cosmetics, ornaments, and clothing.
Once I have decided on a topic for an article, the choice of a stamp to illustrate that topic can occasionally be quite difficult. At the moment, I have around a dozen stamps depicting Santa Claus that I would like to use within the next ten days. I have been trying to vary the Christmas-themed articles as much as I can so I certainly can't use more than a couple of them. For today's post on gift-giving, I had three favorites and chose a souvenir sheet issued by Antigua and Barbuda on December 22, 2006, which is cutting it a bit too close in my opinion (I suppose local Christmas cards bearing the stamps may have been delivered before the holiday). This is actually a sneaky way for me to use an "extra" Santa; on the single East Caribbean six dollar stamp on the souvenir sheet, Santa is holding a wrapped present. I also happen to be a big fan of "tropical" Santas, a topical that got a big kick-off with Australia's somewhat controversial-at-the-time 1977 stamp showing Father Christmas on a surfboard. Runners-up were Canada's wrapped gift design of 2011 (Scott #2435) and a 2012 offering from México showing elves packing and carrying presents (Michel #3731).
Antigua and Barbuda also released four additional Christmas stamp designs, featuring ornaments (Scott #2928-2931) which included a colored strip at the bottom of the stamps reflecting the color of the ornament (orange, yellow, red and green). These designs were also used in a miniature sheet of four stamps with a background picturing a Christmas tree (Scott #2932) but without the colored strip (Scott #2932a-2932d). The souvenir sheet has the Scott catalogue number of 2933. All of these were printed using offset lithography and perforated 13½.
The souvenir sheet from Antigua and Barbuda portrays Santa Claus in his role of gift-bringer. A number of Midwinter or Christmas traditions in European folklore involve gift-bringers. Mostly involving the figure of a bearded old man, the traditions have mutually influenced one another, and have adopted aspects from Christian hagiography, even before the modern period. In Slavic countries, the figure is mostly Father Frost. In Scandinavia, it is an elf-like figure or tomten who comes at Yule (and who sometimes also takes the form of a goat). In Western Europe, the figure was also similar to an elf, developing into Father Christmas in the modern period in Great Britain. In German-speaking Europe and Latin Europe, it became associated with the Christian Saint Nicholas.
In some parts of Central Europe, there is a separate tradition of a young child or fairy-like being bringing presents, known as Christkindl. From these European traditions, the North American figure of Santa Claus developed, beginning in the 1820s. The American figure in turn had considerable influence on the various European traditions during the 20th century.
The origin of the Christian gift-bringer figures in European folklore are clearly pre-Christian, more specifically connected with the Yule (midwinter) festival in Germanic paganism, and are often associated with the figure of Odin (Wodanaz), the leader of the Wild Hunt at the time of Yule. Santa Claus's reindeer has also been compared to Sleipnir, the eight-legged horse of Odin in Norse mythology.
Jacob Grimm in Deutsche Mythologie traces the threatening or scary companions of Saint Nicholas (such as the Krampus of the Austro-Bavarian dialect region) to Christianized versions of house-spirits (kobolds, elves). After Christianization, the benign mid-winter gift-bringer was associated with the 4th-century Christian Saint Nicholas of Myra. This association took place mainly in the territories of the Holy Roman Empire, including German-speaking Europe, the Low Countries, the Czech lands, Hungary and Slovenia. The basis of this association is that Saint Nicholas was noted for his generous gifts to the poor, in particular presenting the three impoverished daughters of a pious Christian with dowries so that they would not have to become prostitutes.
There are numerous traditions of Christmas gift-bringers in European folklore. They can be loosely classified in variations of an "Old Man" (Old Man Winter, Father Christmas), and a "child" or "girl" tradition. The "Old Man" is frequently syncretised with the hagiographical traditions of Saint Nicholas and Saint Basil.
In some countries, these traditions co-exist. In Italy, there is Babbo Natale ("Father Christmas") and La Befana (similar to Santa Claus; she rides a broomstick rather than a sleigh, but is not considered a witch) besides Santa Lucia ("Saint Lucy," a blind old woman who on December 13 brings gifts to children in some regions, riding a donkey) and Gesù bambino ("Child Jesus"). In many parts of Switzerland, and in Northeastern Italy (east of the Piave (river)), Saint Nicholas is also celebrated on December 6. Saint Lucy brings gifts to children on the eve of her feast day — December 13 — in Udine, Bergamo, Brescia, Cremona, Lodi, Mantova, Piacenza, Parma, Reggio Emilia, Verona and Western Trentino.
Wikipedia has an extensive list of Christmas gift-bearers around the world, including the decidedly no-Christian Kingdom of Thailand (ซานตาคลอส), where I have lived for nearly 14 years. Here, Santa Claus is usually accompanied by one or more "pretties" (as they are called when modelling at car shows and other media events). When assisting Santa, they wear rather revealing Santa-like attire and are referred to as "San-tee" (presumably, Santa's mistress during those long hours away from Mrs. Claus on Christmas Eve — Where does he find the time?). Christmas wasn't celebrated in 2016 and was extremely muted in 2017 due to the death of the late King Bhumiphol Adulyadej but seems to be kicking in high-gear for 2018. I have already been asked to appear as Santa Claus for several events, something I did several years ago at local kindergartens. I am looking forward to it as long as the venues have some powerful air-conditioning (the school's usually don't and I tend to road alive inside the costume!).